Most Common Support Issues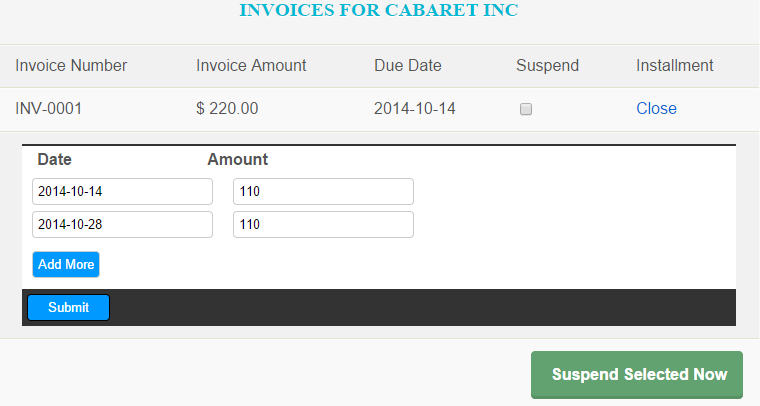 The List Invoices screen is available by clicking on the Invoice amount link from the Search Contacts screen.  It lists the invoice number, amount and due date of all outstanding invoices for the selected contact.
From this screen you may also suspend invoices and create/edit installment plans for an invoice.
Suspend an Invoice
You can suspend an invoice from automated collection by checking the "Suspend" checkbox beside the invoice and clicking "Suspend Selected Now" button.  Once suspended, an invoice will be ignored for automated collection until it is un-suspended.  uCollect will not attempt to collect on this invoice until an installment plan is setup or the invoice is unselected for suspension.
Common examples where you would suspend an invoice (but not the entire contact) is where the customer has disputed an invoice or where you have billed in advance and do not want to start collections just yet.
Installment Plans
Creating an Installment Plan overrides the invoice amount and due date.  It allows you to set up multiple payments to collect the invoice amount.
To start an installment plan click on the "Add" link in the invoice line for the desired invoice.  Now you can create the payment stream (dates and amounts) to collect the invoice amount.  When you are done click "Submit".  You must create a payment stream for the full amount of the invoice.  You can remove an installment date by setting the amount to be 0.
When uCollect checks for collections it will evaluate the installment dates rather than the original due date of the invoice.  uCollect always check to see if the amount outstanding is less than the installment amount and if so, will collect the lower of the two amounts.
An installment plan overrides invoice and contact suspension.  If you want to suspend a contact/invoice with installments you will need to remove the installment amounts.
You can see a report (and export this to CSV) of all upcoming Installments on the Collection History screen.