Most Common Support Issues
At any time you can come back and edit the organisation settings. The only thing that you can't do once the organisation has been setup is delete or change the Xero connection (this can be done by revoking the Application's authority from inside Xero – Settings, Add-ons, Disconnect). The Edit Organisation screen is broken into three sections:
Organisation Profile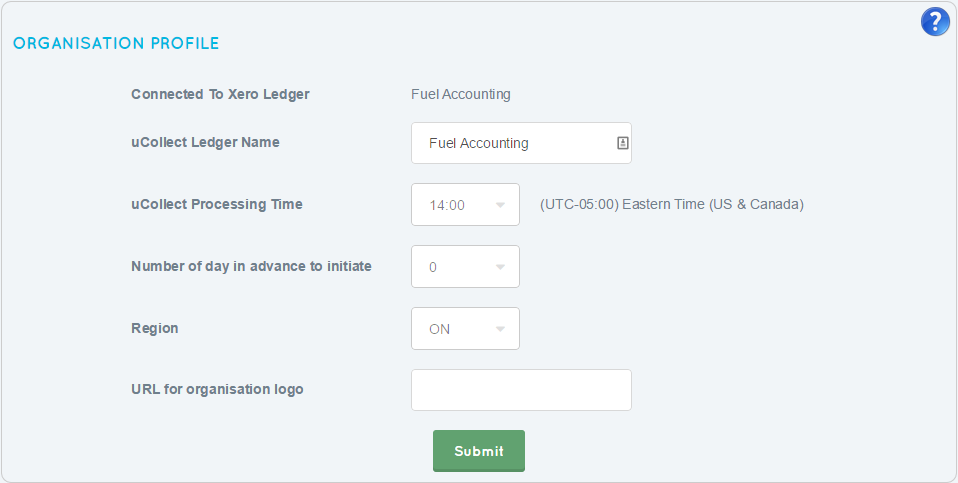 By clicking "Edit Organisation" you can change the settings:
uCollect Ledger Name: You can change the name that is shown in uCollect if you need to. It will default to the organisation's legal name from the Xero ledger.
uCollect Processing Time: This is the time that uCollect will access you ledger every day, based upon the time zone of your Xero ledger. If your time zone is incorrect you should log into Xero and change that in your Financial Settings. We recommend that you set the processing time to be at least 2 hours prior to the end of your working day or the cut-off time for your payment gateway. For example, if your bank cuts off at 4pm, then you should choose 14:00 (2pm) as the processing time.
Number of days in advance to initiate: You can choose the number of days in advance that you want to initiate collection transactions. If you have upload gateways (where you have to download a CSV file from uCollect and upload it to your bank) then we recommend setting this to at least 1 day in advance. Same day processing is possible, but only recommended for direct gateway types.
Region:  If your organisation country is one where we have to collect Sales Tax we may ask you for more details so that we can charge the correct rate.  This currently only applies to Canadian businesses.
URL for organisation logo:  If you are going to be using Pay Now/Payment Services then you should provide a link to your business logo so that we can display it on the Pay Now page.
uCollect Status & Billing

If everything is OK with your subscription it will show "Active." If we do not have a valid credit card number on file then your account will be on hold and no collections will be processed until this is corrected. If you subscription renewal fails then give you 7 days to update your card details before we suspend your account. After 14 days we automatically delete your account. We attempt to send you emails daily to alert you to any issues.
To update your credit card details click "Change Billing Credit Card."
Billing Subscription: You can change the subscription duration (Monthly, Annual or Two Years). The change will be effective on your next billing date.
Authorised Users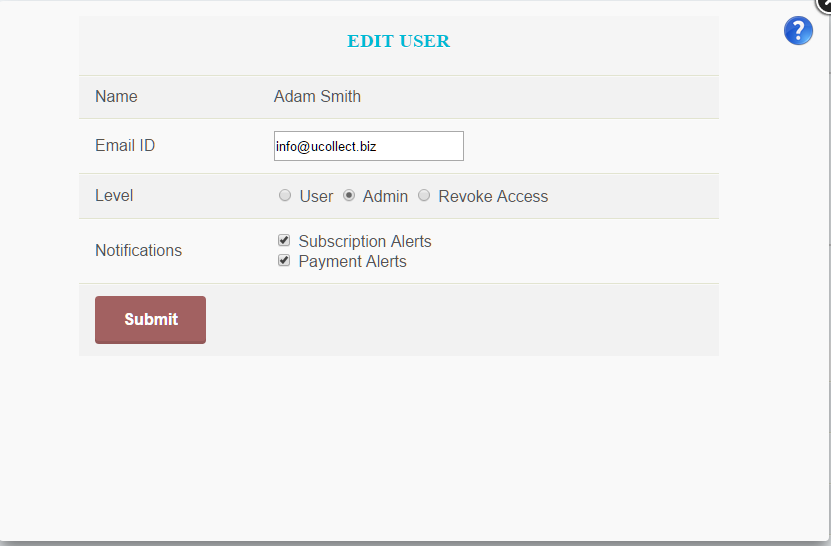 In this section you will see a list of all users who have access to this Organisation (including yourself).  You can edit a user or add a new user.  When you create a user you can assign then admin rights.  This will allow the user access to the Edit Organisation screen and the ability to create and edit Payment Gateways, change the subscription and delete the uCollect account.  Simply provide the user's email address.  If they are already a uCollect user they will be sent an email advising them that they have been granted access.  If they have not yet registered with uCollect they will be sent an email inviting them to register.  Once they have they will have access to the organisation.
To remove a user from your organisation edit the user rights and choose "Revoke access".  They will be sent an email advising them that their access has been revoked.  If this is the only organisation in uCollect then their user account will also be deleted – but they can easily create another account when they need to.
You can determine which users get notified when various events happen. There are two types of notifications:
Subscription Alerts: these are about your uCollect account, not your customer payments.  We send you a message 5 days before your subscription rolls over as well as messages if we are having trouble charging your card.
Payment Alerts: these are messages about errors in payment batches – we send a message every time a batch encounters any sort of abnormal result
The only thing that we require is that you have at least one admin user and that each notification type be assigned to at least one user.
Payment Gateway

In this section you will see a list of all Payment Gateways that you have added to the organisation. You can edit an existing gateway, delete one or add a new one. You can add as many Payment Gateways as you need for your organisation.
When you delete a gateway it will also delete all uCollect contact data connected to that Gateway, but will not delete any content that has already been sent to the gateway (account details, future-dated collection requests, etc.) or your account with the gateway. Deleting a gateway does not change any data stored in Xero.
Please see the Payment Gateway help page for more details on how to manage Payment Gateways.
Delete Organisation

If you no longer need your uCollect organisation you may delete the account. This action is immediate and irrevocable. We cannot restore an account once it has been deleted. We will ask you twice to confirm. Deleting the organisation will NOT delete or change your Xero ledger in any way. Deleting your organisation will:
Delete your billing card token and cease any future charges to your card
Remove all organisation, contact and connected payment gateway data from our database
Disconnect all authorised users from the account
Remove any user account from uConnect if they do not have access to any other organisations.