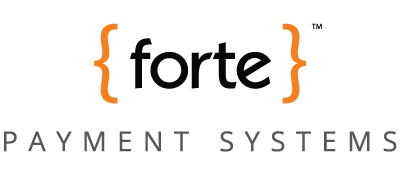 Forte Payment Systems (sometimes known as Agile payments) offers merchants a broad range of payment solutions, including credit card and debit card processing, ACH/eCheck origination, check verification, and fraud prevention. Through superior customer service and industry-leading technology, Forte helps organizations of all sizes grow and prosper by reducing transaction costs, mitigating risk, and increasing efficiencies.
In the US, Forte charges no setup fee. Credit Card processing has fees of $10/month and Interchange+0.25% and 28c per transaction (Interchange is the fee charged by the Card issuer such as Visa or Mastercard and varies by card type).  Fees for ACH are $10/m plus 30c per transaction.  Additional service and charge-back fees apply.  Settlement is 4 working days.  Amounts are settled gross, with fees collected at the end of the month from your account.  Different fees apply in Canada – see below.
Forte is our preferred US & Canadian gateway.